Electronic signatures, or e-signatures, are a fast, reliable, and secure way to sign documents anywhere, anytime, and on any connected device. Our workplaces are increasingly mobile friendly, fast paced, and remote, and our customers want service fast. Whether your customers and team are across town or across the country, being able to send and sign documents on the fly isn't just a good idea—it's a new business necessity.
While e-signatures are nothing new, those who are used to traditional paper signatures might not be familiar with how they work. So, how do you sign documents electronically? Read on for a step-by-step explanation of how e-signing sessions typically work and what these steps look like in eZsign.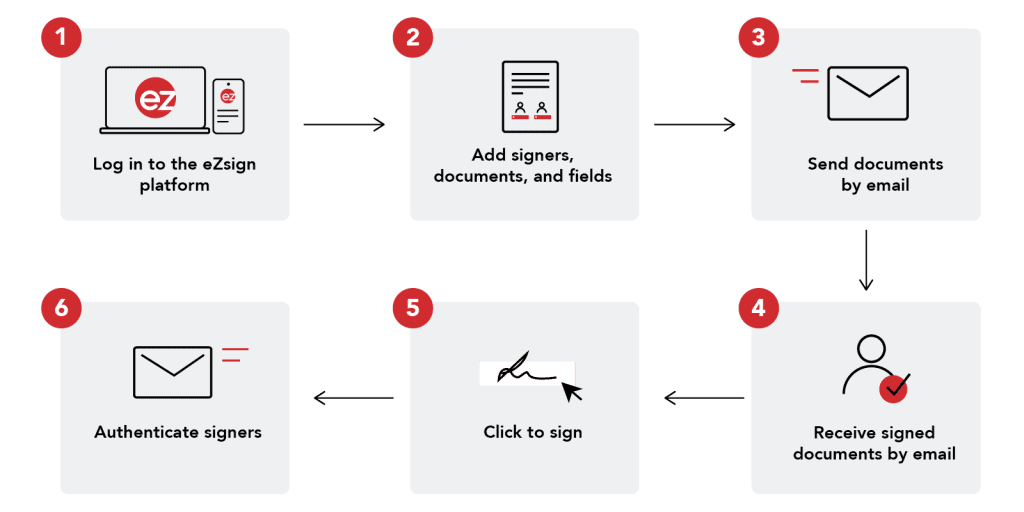 Step 1: Connect to the eZsign e-signature platform.
eZsign is a web-based application, meaning you don't have to download a thing. Simply open your browser and securely log in to the eZsign platform. Depending on your type of account, you might also have a customized API that allows you to connect to eZsign directly through your existing business software for a seamless signing experience.
Step 2: Add your documents, such as bids, orders, or contracts, your signers, and signing fields.
Once you've logged in to eZsign, it's time to start a signing session. First, determine who needs to sign your document and easily add signers to the session. It's as simple as adding a contact to an email. Admins can import existing contact lists or address books, create new contacts in eZsign, and manage shared contact lists.
Next, upload the documents you need to sign. eZsign supports PDFs, the most reliable file type for adding secure signatures, and automatically converts common file types to PDF when they are uploaded.
Finally, add your signing fields. eZsign features an extensive library of standard fields like signature, city, date, and more that you can add to documents as needed, as well as radio buttons, check boxes, and other customizable field options. Easily save pre-placed fields on frequently used documents to save time.
Step 3: Send documents for signing via email.
Once your document is ready, send it to all requested signers with just one click. Signers immediately receive a customized email with your own branding inviting them to the signing session. Enterprise accounts even feature a bulk send option to further reduce paperwork headaches and improving office efficiency.
Step 4: Authenticate signers.
eZsign features multiple ways to verify your signers' identities. First, documents are sent securely via email to the signing party's provided address, meaning it's unlikely another party would intercept the message. For added security, eZsign uses two-factor authentication: signers receive either a phone call or text message with a unique code to access the signing session or a second email with a predetermined security question. Flexible authentication options are key to ensuring that signers' identities are confirmed and data remains secure.
Step 5: Sign with just one click.
Signers are prompted to consent to the use of electronic signatures, review the document, fill in the required fields, and sign with a simple click. It's that easy! Really!
Step 6: Retrieve your signed documents.
After signing, if all parties have already signed, you can download a signed version of the PDF from your browser. If signatures are still pending, you will receive an eZsign email when all the signatures have been collected. The email will include a copy of the signed file and the signing session evidence for your records. Admins can also access signed documents at any time from the eZsign portal.
Fast, easy, and secure electronic signatures
That's it! With eZsign, it has never been easier to collect legally binding signatures securely and easily, no matter where you are. Our solution meets the strictest international standards for compliance and security, yet is simple, easy to use, and fully bilingual. Not all e-signature providers are created equal: eZsign offers industry-leading security, legality, and flexibility. Basic PDF signing has limited security and can lack legal credibility. Our solution provides safe, secure, and legal electronic signatures that stand up in court for unparalleled peace of mind.

Even more e-signature information and resources
eZsign also has a library full of useful videos on how to use our solution. You can watch a tutorial about how eZsign works and see all the above steps in action here: How to sign a document with eZsign.
Need to sign a document right now? Try our free trial.
Want more information about how eZsign can streamline your business? Get in touch with us today to learn about Enterprise account features and our competitive pricing.